The Enrolment Process and Enrolment Timeline at Mazenod College are outlined below. If you require further information, please do not hesitate to contact our Registrar, Lyn McDonald, contact details are below.
Mazenod College is committed to building a community that provides an Oblate-inspired, Catholic-centered education for boys. We therefore seek to enrol boys and their families who wish to help build such a community.
The College gives priority to students who are baptised into the Catholic Faith and are practising members of a parish community. As Mazenod College is also a community, we recognise and value students who may already have an existing connection to our school.
Consideration will also be given to other factors as the College seeks to achieve a balanced and inclusive community which is Catholic in its identity. Attendance at a Catholic primary school does not guarantee enrolment at Mazenod College, nor does attendance at a non-Catholic primary school exclude a student.
Ultimately, the Principal reserves the right to accept students guided by the above principles.
Please complete the Application for Enrolment,download the PDF form to complete and lodge it with the College's Administration. A $100, non-refundable, application fee is payable on lodgment.

It is recommended that you enrol your son in Year 4 prior to the closing date of 31 October each year. Once your application has been reviewed, the College will send you a personal invite to attend the Parent Information Evening held in early November for an overview of the College.

After the closing date for enrolments, applications will be assessed and interviews arranged for families. For the Year 7 intake, interviews are generally conducted in March, two years prior to anticipated commencement.

Once interviews are conducted, successful applicants will be contacted and offered a place at the College. All families are required to pay a once only acceptance fee of $300 (day student) and $500 (boarding) which is non-refundable.

Other Year Groups

Enrolments are certainly accepted at times after the initial Year 7 enrolment. They are subjected to places being available in Years 7 to 11. Opportunities exist for students to join Mazenod in later years and are appealing to families seeking the pathways of learning the College offers and the supporting pastoral and co-curricular programs for boys. Year 12 enrolments may take place under special circumstances.
Enrolment Timeline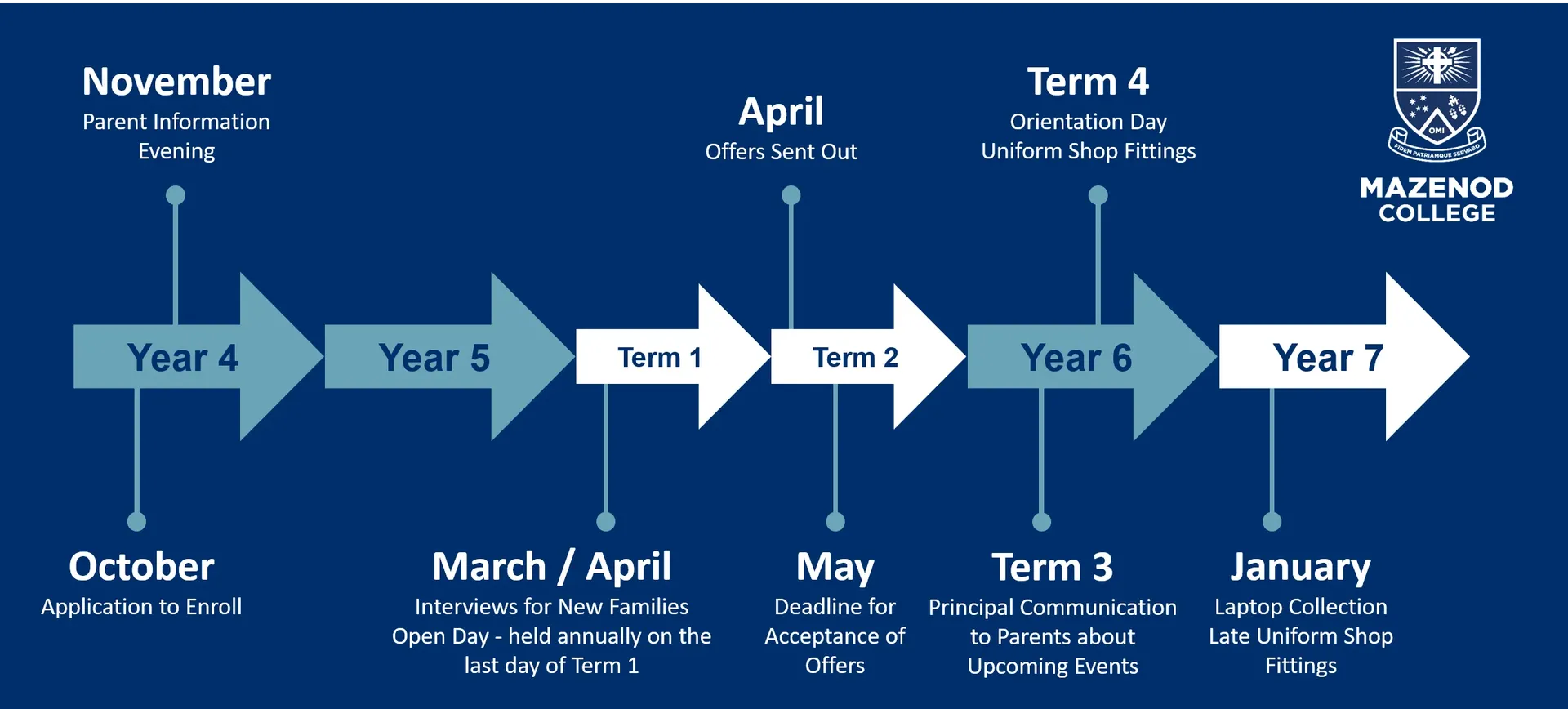 Enrolment Timeline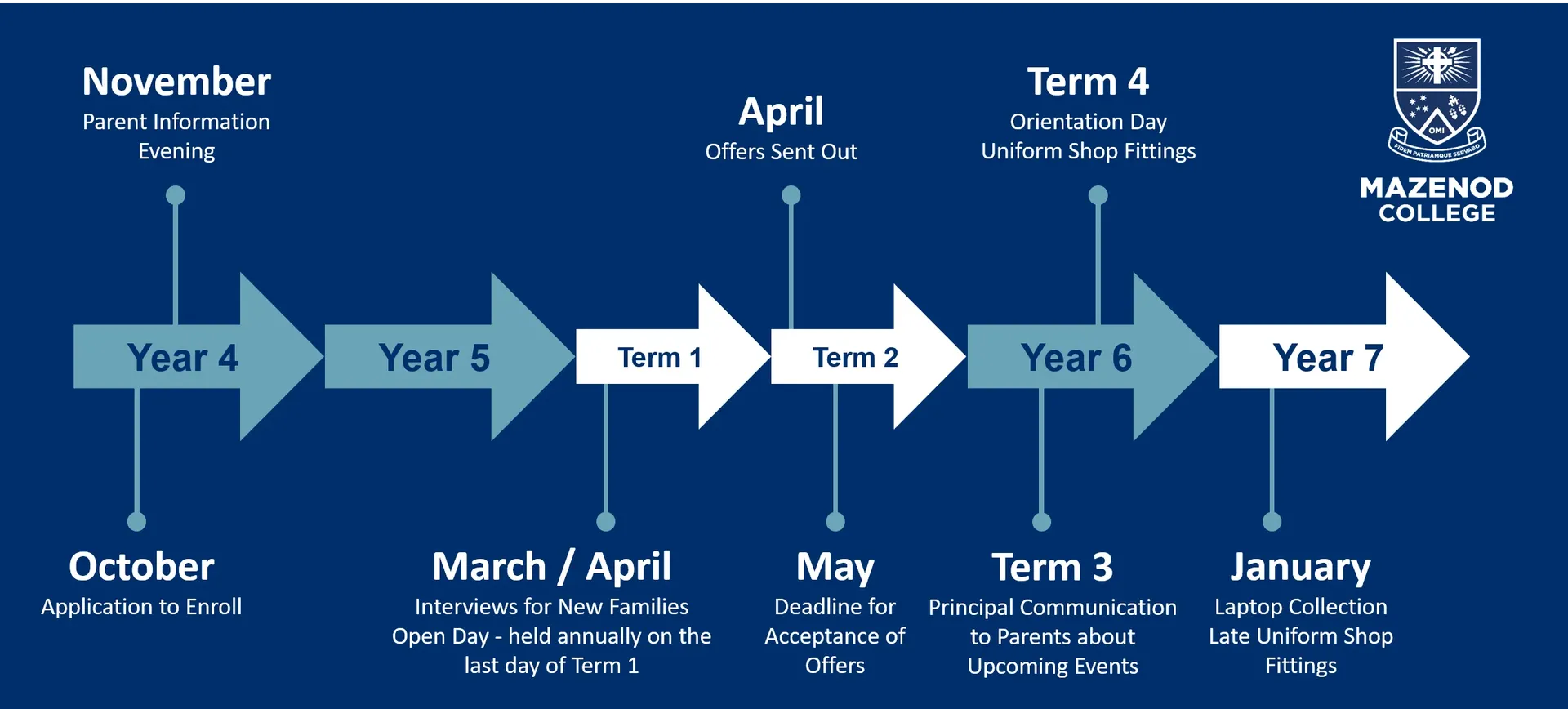 Enrolment Timeline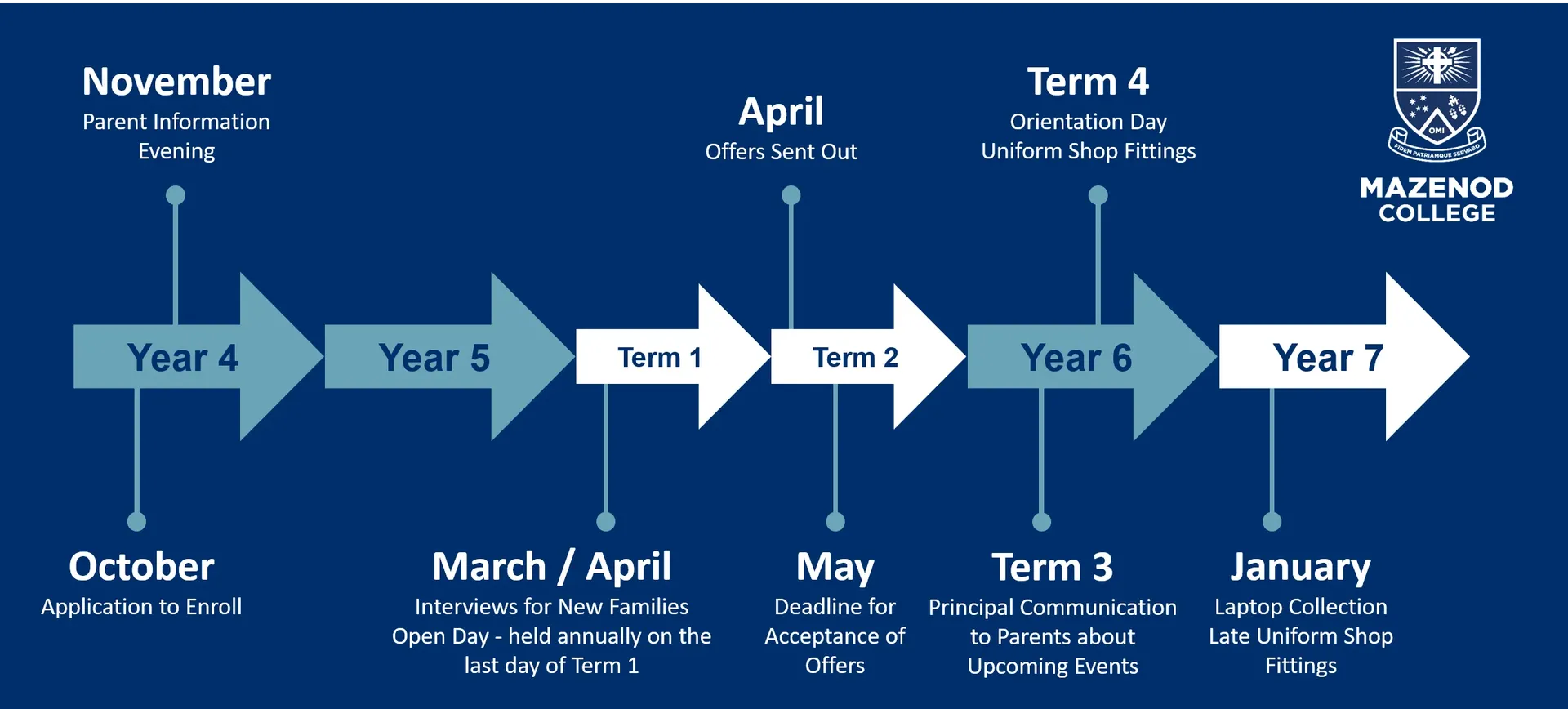 Morning Tours are held annually during Term 1, Term 2, Term 3 and Term 4.
For any queries regarding the enrolment process, please contact Lyn McDonald.
08 9291 1532